The history of GANT
Berl Gantmacher, from Miropol, Ukraine, made the long journey across the Atlantic Ocean at the young age of 17 years old. Archives at Ellis Island record Gantmacher arriving in New York City on November 12th, 1907. Upon his arrival to America, and like many other immigrants he changed his name to Bernard and enrolled in night classes at the College of Pharmacy, Columbia University. Through the day Bernard worked in the Garment District, learning skills in sewing garments. It was here that Bernard met his wife, Rebecca Rose, who worked in the Garment District sewing buttons and buttonholes. After serving for the US Army in France during the First World War, he returned to New York, graduated from college, and decided to start his own business, The Par-Ex Shirt Company, based in Brooklyn with his business partner Morris Shapiro. The new company was a success and soon after relocated to New Haven, Connecticut, where Italian immigrants provided a great, skilled workforce and the demand for top quality clothing was growing. When Bernard's son's Marty and Elliot returned from the Second World War, fashion had a resurgence, and many old traditions were gone. The boys were astutely aware of the changes in fashion and the requirements of the everyday American's wardrobe, no longer were the formalities of the pre-war world the norm. With the button-down shirt being an essential piece in any gentleman's wardrobe, Marty and Elliot (inheriting their father's business sense), realised that they had to introduce a ready to wear button down shirt, and coerced their father into leaving Par-Ex and starting their own venture, manufacturing shirts under their own label. In 1949 GANT was born.
The Ivy League Look
The students at the east coast universities of America, before WWII had already nailed what we call today, the smart/casual look, where you always look well dressed, but never overdressed. By the 1950s, this style spread to universities across the country, and later became known as The Ivy League look. The button-down shirt played a big part in this style, and GANT was a huge part of its evolution, you could even buy a GANT shirt from the campus store at Yale University.
The GANT shirt
In the very beginning, GANT produced for white label companies, where reputable clothiers were confident in putting their name to the GANT shirt. Word of their quality shirt making spread, and they were soon making combination label shirts for their retailers, and word of the brand GANT grew at a rapid pace and the name became famous in its own right. Even though the neck label had a different name, GANT trademarked their shirts with a little diamond with a G inside, on the inside of the tail of the shirt. The trademark G became almost as recognisable and sought after as the brand on the back neck label of the shirt, people knew this stamp was a sign of a GANT shirt, but moreover a sign of quality.
By the mid-1950s America was thriving, and the craftsmanship of the GANT shirt grew from strength to strength, those who had returned from war came back to a booming middle class, where effortless style was a priority. They appreciated the quality and fabric of the GANT shirt, and soon would be infatuated with another GANT reputation, colour. GANT pride themselves on producing extraordinary shirts. They didn't want to get lost in a sea of white shirts, they wanted their customers to stand out from the crowd and in the 50s what would soon be known as the "Oxford Colour Explosion" began, and GANT were offering bold colours, standout stripes and eye-catching checks.
Fun fact: The Gantmacher family were so passionate behind colour that they wouldn't let their sales staff wear white shirts when working.
GANT's Signature Style
There are many reasons why the GANT shirt became the must have shirt in the 1950s, along with its reputation for quality, there were popular, unique aspects to the shirts construction that were appreciated amongst wearers and were also difficult for competitors to copy. The "perfect roll," a shape formed by the front edges of the button collar, the "locker loop" on the back, so that the shirt could be hung and kept wrinkle-free. The box pleat at the back of the shirt, gave the wearer a great range of movement and comfort, without compromising the style, look and structure of the shirt. The "button tab" at the back of the shirt, to keep a tie in place and the collar from riding up.
Fun fact: The locker loop became a part of Ivy League dating culture, where boys would remove the loop when they had (fully) committed to their sweetheart.
Fabrics of the GANT shirt
Most GANT shirts are made from cotton. This is because cotton is breathable, durable and comfortable to wear. To determine a true quality cotton this depends on the length of the cotton fibres, the longer they are, the more comfortable the fabric is to wear.
Broadening their offering
Up until 1971, GANT had only bee in the business of producing shirts. They decided that given their knowledge and understanding of manufacturing and quality to expand their offering to include trousers, ties and rugby polo shirts.
Who wears GANT?
Initially popular amongst the Ivy League schools, the button down soon became popular across the pond with English polo players. Today, GANT has become a go to brand for those looking to achieve effortless everyday smart/casual style. GANT were also inspired by the number of women wearing their boyfriends' and husbands' shirts, realising that everyone appreciated the quality and style of a GANT shirt and so GANT launched their women's shirt range, with the slogan "For women GANT make shirts, not blouses." A·Hume were pleased to add ladies to their GANT offering in 2021, finding that GANT makes the perfect from country to town transition. It is a brand suited to those looking for smart, laid back attire for work, socialising and events.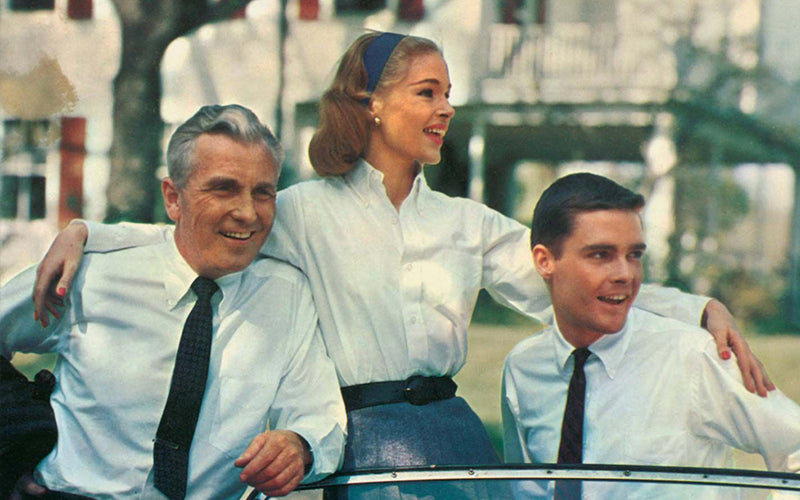 GANT today
Global sourcing strategy and a European HQ
In 1979 the licensing rights for GANT were acquired by three Swedish men for the Swedish, Norwegian, Finnish and Danish markets, Pyramid sportwear acquires all licensing rights for GANT in Europe, meaning that GANT could be designed and marketed outside the USA. Not long after this Phillips Van Heusen acquires GANT in the USA, which sets the foundations for the international brand it is today and in 1997 sees the brand open its first retail store on Fifth Avenue. By 1999, Pyramid Sportswear acquires the worldwide rights for GANT, after Phillips-Van Heusen sells the US operation to them. In 2008, GANT is taken over by Swiss retail group Maus Freres, where there Headquarters are today. Today GANT produce all over the world, including Asia, Africa, Eastern Europe and Europe.
The GANT Logo
The GANT logo is known for being a small shield with stripes and stars inside it, paying tribute to its American roots. More recently GANT have introduced a new logo that links back to the trademark G stamp that was found inside white label GANT shirts. This new label brings the brand back to it's beginnings with the simple G inside the diamond. Both logos are still being used across GANT products.
Sustainability at GANT
GANT's philosophy of creating products that are premium, timeless and designed to last is backed up by their commitment to constantly producing in economically and environmentally friendly ways.
Water Management
GANT have goals set in their ambition to protect our water.
By 2023 70% of GANT suppliers will have best-in-class water management
This will be 100% by 2030
By 2030 they will only use as much water as is replaced naturally.
Sustainable and Responsible Sources
GANT are making strides to be more transparent about their production process and by 2030 aim to communicate the stories of where their products come from and how they have been produced from start to finish.
By 2022 100% of GANT cotton will be sustainably sourced.
By 2023 they will only source cotton through the best available farming practises.
By 2025 100% of their key materials will be sustainably sourced
They source their fibres from the most reliable of sources and are proud to offer responsible wool, down and recycled polyester. Their wool comes from mulesing-free farms that adhere to the FIVE Freedoms defined by the World Organisation for Animal Health. The down from GANT is free from live-plucking, molt-harvesting and force-feeding. When GANT are unable to use natural fibres in their production they source recycled synthetic fibres.
Working conditions and Modern Slavery
GANT work very closely with their suppliers to ensure fair working conditions in their factories. By 2023 their aim is to have complete transparency on all suppliers and strategic partners by 2023 and ensure they are taking part in social compliance programmes. They are also committed to combatting modern slavery within the GANT company and also in their suppliers and have policies in place so that anything untoward can be reported and dealt with.
Environmental impact
GANT understand the limited resources of the planet, and have a huge respect for the environment and have clear objectives to reduce their footprint and the footprint of their suppliers.
By 2025 GANT want to be using 50% renewable energy across their own operations and incentivising similar objectives within their supply chain and by 2030 to be 100% renewable.
Their aim is to reduce their footprint by 30% in 2030.
By 2025 they want to eliminate all single use plastic in their packaging and any plastic packaging used is made from 100% recycled materials.
Product Longevity at GANT
GANT encourage their customers to get the most out of their products, and to create a long lasting relationship with their clothes, and to stop them ending up in landfills so quickly.
Refresh – take care of your clothes to get the most out of them by following the care instructions.
Repair – If you get a little snag, its not time for the bin, where possible GANT encourage repairing your clothes and A·Hume has an in house seamstress that can help you with this!
Reuse – If your clothes are no longer for you, pass them on to someone who needs them or will continue to love them.
Rent – If you are not sure you will get the most out of something, why not look into renting it instead?
Remake – cut up your favourite shirt and add patches to your jeans, get creative and keep your clothes going.
Recycle – there are organisations out there where you can send your clothes off to be recycled.
GANT – A luxury brand with a passion for quality
GANT have nailed style that is easy to wear, where you can literally throw something on and look effortlessly smart and stylish. With their passion for quality stemming from their heritage and beginnings, and their commitment to sustainability and environmental sourcing resulting in a brand that you can have confidence in.